One of the great things about yoga is how very transportable it is. You do not need a lot of equipment, and the equipment you do need is light and easy to pack. It can be practiced in a small space, even a hotel room. It also does not need any other people, but yourself of course. All these reasons mean that no matter where you are, you can experience the benefits of yoga, and keep your practice strong.
Required Equipment
In all reality, you do not need any equipment to practice yoga. However, there are some items that can make practicing yoga much more comfortable. All of these are light and won't take up too much room in your luggage, so bringing them along is not going to be much trouble at all.
The first thing you will want to look into bringing is a yoga mat. Thinner mats will be easier to pack, but make sure it provides you enough padding. You can, if you find the thinner mat to be uncomfortable, use blankets underneath to provide more cushion. You may also want to check with where you are staying, many hotels now offer yoga mats that you can rent or gym space stocked with yoga mats.
For clothing, a simple yoga outfit just needs to include a comfortable bra, shirt, and pants. This can easily double as great loungewear doing downtime in your travels, so bringing it along should not impede your travel plans at all. If you are used to practicing in yoga socks, bring those along too. Adjusting to being barefoot can be difficult if you use yoga socks regularly.
Blocks and rollers are going to be a little more challenging to pack, as they can take up quite a bit of room. They are thankfully very light, they might just take some work to fit their bulk into your suitcase. Like mats, you may also find that your hotel has access to these pieces of equipment, so that can let you avoid trying to pack them.
Effective Locations for Your Practice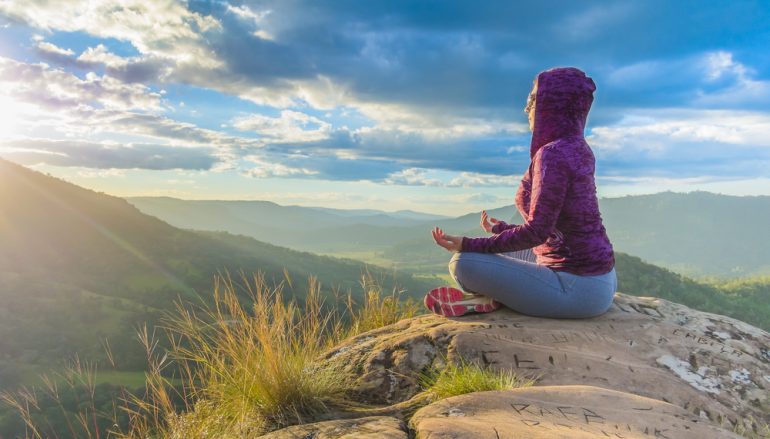 Most hotels will offer a small gym space, they may have some equipment there too. The space in most hotel gyms will be plenty to go through your practice. If there is no gym space, or you are just more into quiet and private practice, feel free to stay in your room. Don't forget that outside can be a great venue for yoga as well, and this can allow you to enjoy some sights and sounds of a new place.
With the small space required and the minimum equipment that you need, your yoga practice can come with you almost anywhere in the world. It is also independent of other people. While having a favorite instructor is wonderful, it is possible to self-guide yourself through a few yoga routines. Yoga has also become popular enough that many gyms provide space and basic equipment to their guests. Vacation or business trip, there is no need to pause your practice. Keep yourself happy, strong, and in tune with your body, no matter where you go.